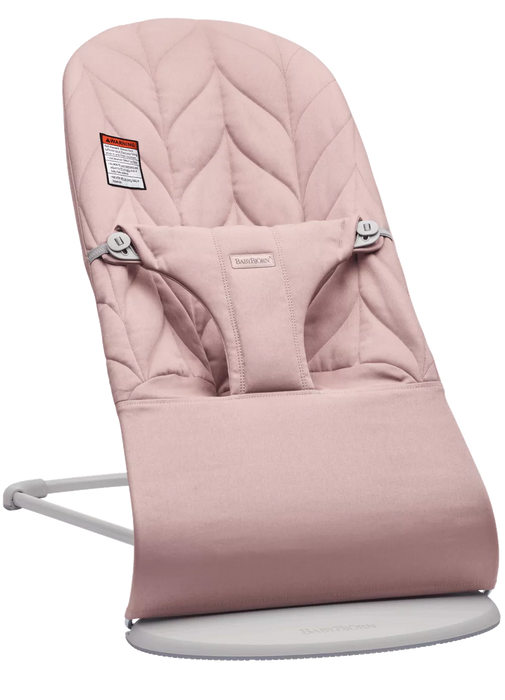 Baby Bjorn Bouncer Bliss Cotton Petal Quilt
Original price
$209.99
-
Original price
$209.99
An ergonomic bouncer with a soft and snug design that is suitable right from day one. The fun and natural bouncing movement develops your baby's motor skills and balance. No batteries required.
Fun and developing rocking
No batteries are needed for this bouncer as it is your baby who makes it rock. Your baby quickly learns how to make the bouncer rock by his or her own movements, and this develops balance and motor skills in a completely natural way.
Proper head and back support
The ergonomic design gives your baby proper support from age newborn. The fitted fabric seat moulds itself to your baby's body and distributes weight evenly. This gives your baby good support, which is particularly important for very young babies whose muscles are not yet fully developed.
From newborn to 2 years
Being a bouncer and chair in one, the Bouncer Balance Soft can be used for a long time. From the time your baby is newborn and until he or she has learned to sit up unaided, it can be used as a bouncer. When your child has learned to walk and sit independently, you can reverse the fabric to create a comfy chair.
Easy to clean
The fabric seat is easily removed when you need to clean up after your baby and wash it in the machine.
Adjusts to four positions
The bouncer has four positions – play, rest, sleep and transport mode. It easily and quietly adjusts from the highest play position to the lower rest position and the lowest sleep position. It folds completely flat in transport mode.
Compact for easy transport and storage
Lightweight and flat-folded in transport mode, the bouncer is convenient when you're on-the-go and easy to store when not in use.
Soft design for an extra cozy feeling
The Bouncer Balance Soft is characterized by round forms and a supportive design that creates the feeling of a snug nest for your baby from age newborn. The safety harness, with its soft padding, is comfortable for the baby to hold on to.
Developed with pediatricians
The Bouncer Balance Soft is developed in close collaboration with world leading pediatricians to ensure correct support for your baby's head and back from age newborn.
Specifications:
From birth to approximately two years.
Min. weight: 8 lb
Max. weight: 29 lb
When the product is used as a bouncer, the maximum weight is 20 lb.

Highest position up to 20 lb.
Middle position up to 20 lb.
Lowest position up to 15.5 lb.

When the product is used as a chair, the maximum weight is 29 lb.

Highest position up to 29 lb.
Middle position up to 22 lb.
Lowest position up to 15.5 lb.

It is not dangerous to exceed the recommended maximum weight for a position, but the bouncing function will not work as well.
Material:
All materials are kind to your baby's skin and safe to taste. Free from health-hazardous substances and certified according to Oeko-Tex® Standard 100, Class I for baby products. That's important to us!
Fabric:100% cotton